Curvy mom Catherine takes a break from dish washing
Greetings Smutfans,
Here is our latest photo gallery of well rounded housewife Catherine.
Ever since Catherine can remember she has been teased because of her big butt.
But lately the insults start to arouse her and she purposely wears things that show off her curvy body and huge behind.
Have fun with Catherine from OlderWomanFun.com
Free sex cams
Granny cams
Mommy cams
Mature Latin cams
Mature Asian cams
Mature Ebony cams
Mature Blonde cams
Mature Big Tits cams
Today's update: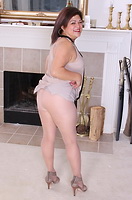 Full series available now!
Latest movies on
(click for preview):