Belgium grandma masturbates in pantyhose
Greetings Smutfans,
Here is a new photo gallery of Belgium grandma Sabine.
Last week had been so stressful at work for Sabine, so naturally she had been masturbating a lot when she came home.
Even whilst driving she couldn't help but rub her crotch through her pantyhose.
Have fun with Sabine.
Free sex cams
Granny cams
Mommy cams
Mature Latin cams
Mature Asian cams
Mature Ebony cams
Mature Blonde cams
Mature Big Tits cams
Today's update: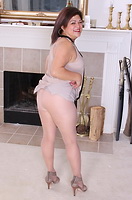 Full series available now!
Latest movies on
(click for preview):