Mature mom masturbates in white panties after a hard days work
Greetings Smutfans,
Here is a new photo gallery of mature mom Dalny.
Dalny was very busy at work today, it was quite a hot day and she was wearing a short skirt and white panties.
She could feel her wet pussy throbbing all day and on the drive home she could hardly keep her hand off her crotch!
Have fun with Dalny!
Free sex cams
Granny cams
Mommy cams
Mature Latin cams
Mature Asian cams
Mature Ebony cams
Mature Blonde cams
Mature Big Tits cams
Today's update: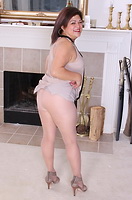 Full series available now!
Latest movies on
(click for preview):