News Archives!
Pantyhosed mature Milly

If you can peel your eyes away from my crotch, look into my eyes!

See More!

Chubby mature Lonna

I was certain he would be able to smell me...

See More!

Redheaded mature Lynn

In my fantasies I often picture the hotter moms fucking themselves...

See More!

Horny mature Kirsten

I have been fascinated seeing cum shots...

See More!

Hairy mastubator Vika

As I spread my legs I can feel the sun on my wetness...

See More!

Pregnant mature Mia

I am pregnant and have become uncontrollably horny...

See More!

Petite mature Stella

I had the urge to finger myself in the changing room...

See More!

Busty housemilf Saffy

I even have what some will call taboo fantasies...

See More!

Pantyhosed Rose Marie

I just love the feeling of not wearing panties under my pantyhose

See More!

Big breasted Robyn

I had just finished showering when I noticed him...

See More!

Rebecca wears stockings

One of my favorite things to do was to go without underwear

See More!

Holly's swollen pussy

I love masturbating and am very turned on by watching other people...

See More!
Free sex cams
Granny cams
Mommy cams
Mature Latin cams
Mature Asian cams
Mature Ebony cams
Mature Blonde cams
Mature Big Tits cams
Today's update: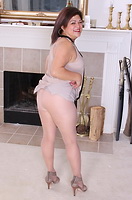 Full series available now!
Latest movies on
(click for preview):