News Archives!
Skinny mom Susie

As I walked I had that lovely sticky feeling between my legs...

See More!

Gorgeous mature Ava

I started to feel horny and my clit began to pulse...

See More!

Pantyhosed mature Mae

I could feel my clit was enlarged, oh how it craved attention...

See More!

Classy mature Vanessa

Another woman? hmmm.. OK, I am curious!

See More!

Stockinged milf Bethany

I stood in front of the window in my stockings...

See More!

Beautiful mature Jennifer

I am starting to feel like a very bad wife...

See More!

Over 50 Nicole

There was a good sized wet spot already on the pantyhose!

See More!

Horny grandma Ina

I love masturbating, and I don't give a damn where!

See More!

Mature secretary Larissa

All I could think about is having a cock inside me!

See More!

Hairy legged Lizbeth

I stood there naked, enjoying the scent of my hairy pussy...

See More!

Curvy milf Jennilee

I love the rush I get when another woman sees me naked...

See More!

Hairy grandma Zoe

I am such a horny old masturbator, I feel amazing...

See More!
Free sex cams
Granny cams
Mommy cams
Mature Latin cams
Mature Asian cams
Mature Ebony cams
Mature Blonde cams
Mature Big Tits cams
Today's update: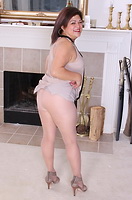 Full series available now!
Latest movies on
(click for preview):