News Archives!
Busty mature Tiffany

I love to tease you while you sit behind your screen...

See More!

Long legged Darby

I want to control your weakness for my stockings!

See More!

Pantyhosed mature Laeiana

I have been horny all day and really wanted a guy to do me

See More!

Hairy grandma Susan

I need relief, I lift my legs and spread them...

See More!

Chubby housewife Janelle

I have to admit that my big butt needs a lot of attention!

See More!

Curvy grandma Dawn

My freshly shaved pussy is quivering like a scared rabbit!

See More!

Plump mom Cathy

My large boobs and massive butt are available to fulfill your wishes

See More!

Fat mature Sam

Maybe he likes my shaven pussy with its fat pussy lips...

See More!

Horny mom Michelle

My hips squirmed noticeably under your touch...

See More!

Big titted Tara

I start feeling the wetness seeping into my panties...

See More!

Sexual mature Max

I have always been a very sexual woman...

See More!

Sultry granny Ina

I still need to masturbate about twice a week...

See More!
Free sex cams
Granny cams
Mommy cams
Mature Latin cams
Mature Asian cams
Mature Ebony cams
Mature Blonde cams
Mature Big Tits cams
Today's update: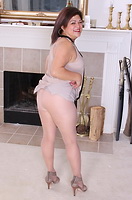 Full series available now!
Latest movies on
(click for preview):