News Archives!
Petite mature Payton

I am ready to explore my pussy

See More!

Small titted Andie

I know your cum will taste sweet

See More!

Black granny Rayveen

I casually hiked up my skirt several more inches exposing my panties

See More!

Wanton granny Sally

It seems to be some strange hyper-arousal reaction

See More!

Busty grandma Dana

I love how the seam creeps into my pussy and teases me up

See More!

Naughty granny Melina

I just happen to glance up and see my neighbor staring at me

See More!

Hairy teacher Liz

My pussy lips glisten lightly with my wetness

See More!

Wanton mom Cindy

I feel like a kinky old slut!

See More!

Sexy mom Nikki

I like to exhibit myself fairly often

See More!

Small titted Bailey

I started playing with my nipples under the blanket

See More!

Sultry mom Jennilee

Every now and then I am attracted to a woman

See More!

Mature beauty Sarah

My pussy is screaming for the ultimate release

See More!
Free sex cams
Granny cams
Mommy cams
Mature Latin cams
Mature Asian cams
Mature Ebony cams
Mature Blonde cams
Mature Big Tits cams
Today's update: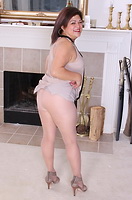 Full series available now!
Latest movies on
(click for preview):